What's New in the Acumatica 2017 R2 Interface?
Acumatica recently released a new version Acumatica 2017 R2 and it contains a significantly enhanced user interface (UI). This new UI allows users with the proper permissions to organize their interaction with the system to fit their work.
By default, the Acumatica 2017 R2 UI is organized around system functions such as Payables, Purchase, Finance, etc. Utilizing the new Workspace concept introduced in 2017 R2 users can create their own Workspaces around job functions in their companies. For example, by default, the system comes with a Workspace called Projects which is focused on Projects only.
I created a new Workspace called Project Management that brings together screens and activities from various parts of the system. For example, a project manager may trigger purchase orders for the projects they are working on, so a Tile has been added to create a New Purchase Order as shown below. In addition, the project manager can set up new projects, view AP invoices, trigger Project billing and view various reports and inquiries coming from other parts of the system. In addition, they can synchronize the Acumatica Project with Smartsheet to manage more detail tasks, resources and timelines (more on that in a subsequent post).

Users can also choose how to display the Workspaces: with descriptions or just icons to allow for more work area real estate: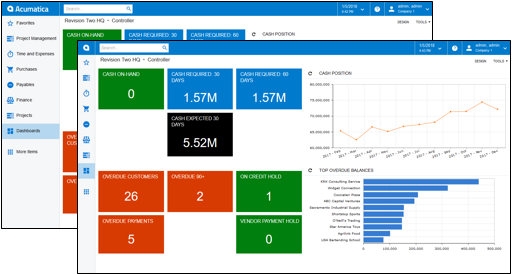 Finally, users can collapse the menu to the top and have the menu display Workspaces only when the Menu is selected providing even more real estate for screen interaction.
This new ability for users with proper access but no development skills to easily modify how users interact with the system will help increase the productivity of the system.
If you'd like to see this and more productivity enhancements, please contact us for a demo.
Stratotech Partners, LLC. – Headquartered in Seattle, Washington, Stratotech serves Acumatica customers in the Seattle metropolitan area and northwest region. Stratotech's expertise allows them to focus on small to mid-sized manufacturing companies who are outgrowing existing systems and looking for lower cost cloud-based alternatives. Stratotech is a certified Acumatica cloud ERP and Smartsheet provider. These are leading cloud platforms for collaboration and project management.
Stratotech Partners, LLC is an Acumatica Value Added Reseller (VAR) partner. Our experienced consultants provide cloud-based business management software to enable small and mid-sized companies to accelerate their businesses. Acumatica is built on modern cloud and mobile technology and has a unique customer-centric licensing model. Our specialties include implementing business management applications such as Financials, Distribution, CRM, and Project Accounting for Distribution and Manufacturing industries on a robust and flexible platform.
For more information, please visit our website, call 206-336-9197 or email us.
Follow us on: